Customer Reviews
Real Reviews Written by Customers Just Like You!
HalloweenCostumes.com is dedicated to helping customers just like you create your best Halloween ever. Whether it's trick-or-treating with the family, holiday celebrations throughout the year, or hitting up the biggest party on the block, we want you to have an awesome experience, full of confidence, joy, and all the wonderful things that create giggly, grin-filled memories that are meant to be shared.
We love to hear from our customers, the good, the bad, the ugly, and the goofy. Please read through these real reviews written by customers just like you. We think you'll like what they have to say!
And if you'd like to tell us what you have to say, please email us. Comments, stories, photos, whatever ya got, we want it. We can't wait to hear from you!
This was my first time and it was a wonderful experience!! Love it!! This is my first time. I bought two Halloween costumes. One for me and one for my little Yorkie. We are both like minions, so they fit large for both of us. The customer service department was excellent and fix my situation in just a few minutes. They knows what customer service is all about. I'll give them 10 stars!!!!"
Jeanette Lopez
October 17, 2018
I was absolutely impressed with my experience - the costume was great- however my cousins costume was too big on her and so I let her wear mine and I wore hers-it was not as fun as the one I ordered from you but she felt better in it as she did not have to use a whole bunch of safety pins. The party was a huge success Grandma was able to bring in her 80th in a big way. I do not have the pictures yet but will probably have then soon. Thank you for all of your help in getting me (well my cousin :) ) a costume on time."
Marianne
I ordered a dress on Wednesday for a Christmas Party tonight (Saturday). I paid for two day shipping and the dress arrived late on Friday — in plenty of time for the party! The dress is very cute. I'm glad it arrived early, as I needed to toss it in the dryer to get the wrinkles relaxed — but it looks and fits great. And it's sturdy enough to dance in — that is important. My experience this time is all very good."
AnnaBanana
December 1, 2018
I just wanted to thank you for how fast the shipping was on my costume. Your description of the item was accurate and my costume fits great! Thanks for such great customer service. I will be ordering from your company in the future and recommending it to others for sure!"
Denise S.
The kids loved the costumes, thank you so much." Here is what they had to say:
Shawn (8yrs) — "Everyone freaked out when they saw me as Darth Vader…especially my friends. The mask is cool because it has air holes to breathe and eye sockets that look just like Darth. I can see out, but people can't see it. I like that."
Leshee (6yrs) — "When I wear it, it is like I have a protective force-field around me."
Tom (4yrs) — "My double-end lightsaber… I like it a lot. I like my lightsaber because it has a hook that keeps it from collapsing so I can keep it out."
Mich (3yrs) — "My costume is really really cool. They were like costumes we never had before. It's fun to be in my costume."
Nora O., Rhode Island
I ordered an authentic Gene Simmons costume from this company. The package arrived earlier than I expected. The costume came in its own carrying case, with extra pieces in case some of the metal clips came off from wear. The boots came in an amazing flame box. Great experience. I will be purchasing from them again."
Josh L.
I recently purchased a Green Lantern lantern and got it a LOT faster than I thought. I just wanted to say thanks for the great service and that I will be sending all my geeky friends your way. When the box was sitting on the steps I looked ay my friends and said, "There's no way that it's here already". They were green with envy over my Green Lantern lantern!"
Linda., Pennslyvania
You guys are the bomb!!! I had ordered a costume, which was processed, but then at the last minute I changed my mind and went ahead and ordered the 2nd one. I was thinking the 2nd one wouldn't come the next day when I ordered it around 1pm and also based on what the customer service rep said, that it wouldn't come the next day, I went with my gut and ordered it anyway and Both orders came the next day as promised!!! Thank you so much for your fast service and awesome website."
Dance Mom Chris
November 30, 2018
Hi there just wanted to say thank you for the great service. My costume arrived in New Zealand 8 days after I ordered, 2 days before the party. Thanks for the prompt turn around."
Paul T., New Zealand
I just wanted to thank you for how fast the shipping was on my costume. Your description of the item was accurate and my costume fits great! Thanks for such great customer service. I will be ordering from your company in the future and recommending it to others for sure!"
Debbie Y., Australia
[after being emailed a copy of her order per her request] "Perfect! I see why you guys are rated A+ from the BBB! thanks so much!"
Amy M.
This website offers a large selection of Halloween costumes made from quality materials. The site is easy to navigate and their prices are great. Halloweencostumes.com has different shipping options, even for international. I would recommend shopping for costumes on this site."
Tonya T., Mississippi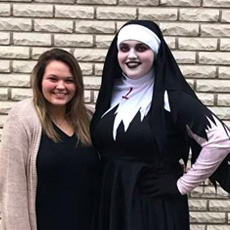 Loved my costume and scared Kids all night even in the snow we had. Only downfall is the leggings didnt fit but I wore black underneath and looked way better. I'm 6ft so length of everything was perfect! Can't wait for next years costume. Have 3 picked out ready! And best thing I loved even more I ordered my costume on a Sunday and had it at my doorstep by that Wednesday mid October! Highly recommend this company for your Halloween needs!
I was surprised at the quality of the costume. Normally it's made with thin fabrics and a tie back. This was thick material and a zipper back. True to size when using their size chart. I bought this costume for a Halloween wedding and I'm very happy that I'm going to look nice and feel good in it. I can't find one bad thing to say!! I'll never shop at the big retailers or party city ever again!!!
Won: Most Likely To Scare Children
This costume was great. It fit perfectly. It was a bit difficult to sit since it's made of burlap. The material is also itchy so it's best to wear a long sleeve shirt. The head was squashed right out of the box. I used my handheld steam cleaner to get out all the wrinkles from the costume and the foam head. The steam also helped get rid of some of the itchiness of the burlap. I won a $50 gift card at work with this awesome outfit. My next costume will definitely be from Halloween Costumes.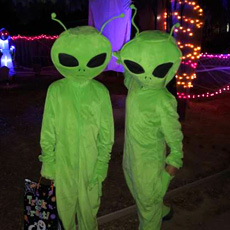 This was a great quality costume! I bought this for my son who is 12 and i purchased an adult small because he is tall and slender build (5ft). and everyone loved it so much especially the over sized head, my nephew loved it so much he got one as well! The shipping was super fast! My nephew originally purchased a kids XL and it turned out to be a little snug, So he was able to return and purchase an adult small and it still came before Halloween!
I ordered my "outfit" for a benifit weekend (4/27-29) with the Shrine ladies (wives of Shriners). The theme is the Roaring 1920's. I was able to get all that I needed for my outfit and it looks great. I was worried that it would have that CHEAP look. But everything looks great and a lot of the other ladies have ordered from you after seeing my "stuff". I will surely order from you again when I needed something special. My order was very prompt and was well packaged. VERY pleased with everything."
Kathleen, Missouri
I just wanted to let you know that I am exceptionally impressed with your customer service. I placed an order that arrived quickly and securely. One item was missing and was shipped almost as soon as I sent an email request for the item. I phoned in since your email reply went to my spam folder and received exceptional phone support. Thank you for all you do."
Jeremy S.
I recommend HalloweenCostumes.com to all of my friends. The selection is huge. The prices were lower than other sites. My costumes were shipped and received quickly. The costume quality was excellent too, even better than I expected! I went back twice to place more orders. I did need assistance on one order, and I was immediately helped by a very polite employee. I'm a very satisfied customer."
Sandra
October 19, 2019
Excellent service in ensuring the package arrives in stipulated date. And most importantly you sell plus size costumes as I am size US 20 and it's very difficult to find plus size costumes."
Phine
December 6, 2018
The customer service level I received was outstanding. I had a question regarding what size to order for my 5 year old son. The question initially couldn't be answered by the live chat customer service representative. The representative was named Tyler, he went to the warehouse and measured both costumes. Because of his willingness to do this I ordered the correct size. Had he not done that I would have ordered the wrong size and would have had to do a return. Also this provided me with a comfort level and I subsequently ordered costumes for the whole family, rather than purchase those other costumes through a retail establishment."
Tanya M.
Products are quality and affordable. The website has successfully offered what I have needed. It is clear and easy to use and most importantly I got my product on time and like I said before I was very pleased that affordable did not mean very low quality. I really appreciate my experience and I hope this business prospers because of its good and honest services! Thanks to all the staff that make it possible."
Chelsii
I just wanted to say, 'thank you.' I received my order today and was pleasantly surprised to receive it soooo quickly. Was not expecting the order to arrive for a few more days. We opened it and it's perfect!! My daughter is doing a book report on Indians, and she needed the costume to act out her book report. Thank you again."
Carl S., Brazil
I love ordering from HalloweenCostumes.com they made it easy. The costume was perfect fit and true to size. The quality is awesome. Will be looking to buy more from here."
Emi
February 13, 2019
Would just like to say I have received my order and that I am really pleased with the service and product. I am sure I will be ordering again soon. Thank You."
Steve, United Kingdom
February 7, 2019
I wanted to thank you for the great customer service and terrific costume! The online chat is so helpful and the staff is courteous and knowledgeable. what a pleasure to deal with. I have already referred 3 people to the site, and I believe two have already placed orders. Thanks again. I look forward to doing business with you again next year."
Roxanne K.
I just wanted to let your company know that you are awesome in quality and delivery. Your customer service is above and beyond. A special thank you to Johnathan for all his help."
Leila, Florida
Novemberr 14, 2017
I was very satisfied with everyone I came in contact with. I returned my outfit because it was too big and exchanged it for a smaller one that fit perfectly! All transactions with Halloween Costumes have been extremely easy and all personnel I spoke with were very professional and helpful. I will definitely contact Halloween Costumes in the future."
Lynnie
December 6, 2018