Top Gun Costume Ideas
What automatically pops into your head whenever you think of the 1986 blockbuster film, Top Gun? Do you think about Maverick whizzing around recklessly in the air, do you think about Iceman winning the award for top pilot, or are you more focused on their cool 80's themed, aviation-inspired sense of style? Sure, we love all the high-flying action scenes that the classic movie has to offer, but we also equally love watching young 80's heartthrobs like Tom Cruise and Val Kilmer rock a green zip-up jumpsuit paired with some sweet combat boots. You've got to admit, the fashion in Top Gun is memorable and recognizable! You'll love outfitting yourself in these sleek and aerodynamic costumes so much that they might literally "take your breath away." (Sorry, that was cheesy, but we really had to throw that line in there because that song is just so good). Take a peek at all of these Top Gun costumes for men, women, and children and to make your squad look like the star-studded cast from one of the best action/drama movies of all time!
Top Gun Outfits
What styles of clothing do you like to wear? Are you a jeans and t-shirt type of guy or are you a lady who likes to dress to the nines everyday? It doesn't matter what your style preferences are, we have Top Gun costumes that will please all different types of people. Those who like the casual look will appreciate the relaxed-fitting jumpsuit, but those of you who prefer to dress fancy at all times will appreciate he more formal style. Plus, the military green color is flattering on all people. Just browse over these styles that we have chosen and pick out the one that catches your eye first!
Men's Top Gun Costume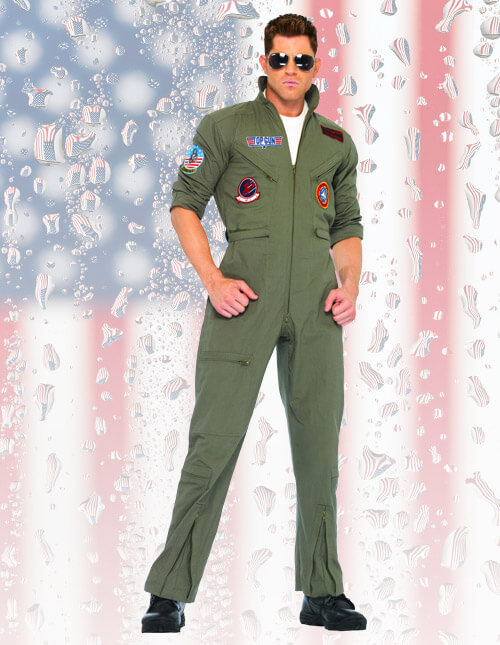 Hey, do you feel that? Yup, you know what we're talking about. Do you feel the need? The need for speed? If you are really enthusiastic about zooming through the clouds at maximum altitude, then you definitely do feel the need for speed. You better act on that need and enroll yourself in the Naval Flying School because you'll be your school's most accomplished Top Gun in no time! You already have the right attitude, the skills, the determination, and the love of adventure to be successful, so all you're missing is the perfect outfit. That's where Halloweencostumes.com comes in! We sell the perfect costume that will skyrocket you to your full pilot potential. This Men's Top Gun Flight Suit is officially licensed so it looks just like the ones Tom Cruise, Val Kilmer, and Anthony Edwards wear in the Academy Award winning movie. You'll love wearing the replica patches that are sewn onto the front of the jumpsuit and the sleeves. The zipper going down the front of the jumpsuit and the fully functional zippers located on the pockets serve as a handy place to keep all of your must-have essentials. Just pose in a rugged stance and you'll look ready to enter the Danger Zone!
Top Gun Flight Dress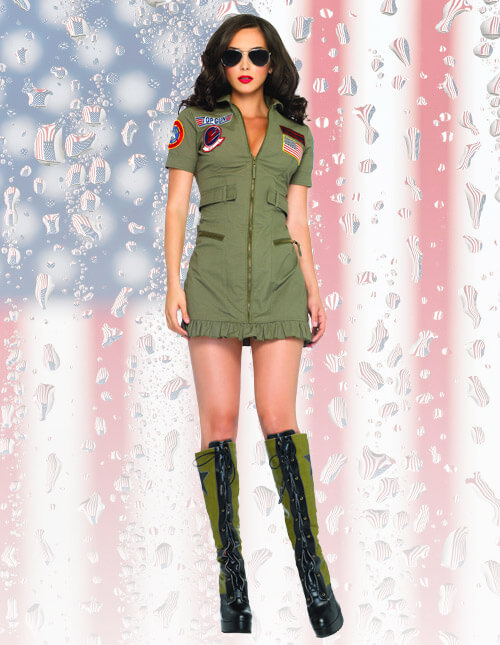 Women can earn their wings too! Ladies who aren't afraid of danger and who definitely aren't afraid of heights are perfectly suited for the lifestyle of a Naval Aviator. Even though your job entails lots of responsibility and strenuous activities, that doesn't mean you have to show up to the job wearing frumpy, baggy clothing. That's right, you can have a man's job but still dress like a lady, so you're really getting the best of both worlds. We can hook you up with a cool officially licensed Top Gun flight dress costume that is perfect to wear while you're on the job. It's also a great outfit to wear when you're hitting the town with your friends, because of the dress's sleek design. You'll love wearing the short cargo-style mini dress, which features a full-length zipper down the front and two convenient zipper pockets. The patches on the upper chest are what makes this costume look like it's straight out of the iconic movie. This costume comes with changeable name tags so if you're feeling like a lone wolf one day, you can wear a Maverick badge. However, you can also wear a Goose name tag the next day if you want to also! This costume will make your confidence hit new heights, so you can bet that you'll be the top student in your flight class or you can have the time of your life at a costume party. No matter what activities you decide to take part in, make sure that you have a competent wing woman on your side!
Toddler Top Gun Costume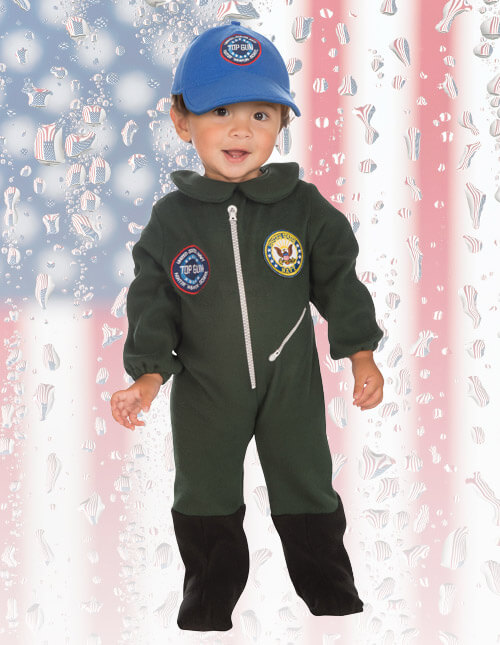 Is your little one full of energy? Does he love running around, pretending to fly? Or does he love playing with his toy airplanes during playtime? If you answered, "yes," to all of these questions, then we think that this Top Gun costume for toddlers would be the perfect outfit for your little guy to wear. This comfortable and soft jumpsuit is great for young pilots in training because of the plush fabric and the conveniently attached shoe covers. The zipper and patches are printed onto the long sleeve jumpsuit, so when your tiny tyke is crawling around the naval base, you don't have to worry about the cool patches falling off. Your little Maverick will instantly feel the need for speed once this officially licensed costume is on him. Who knows, maybe he'll go from crawling to walking because the need for speed will be so intense! Top off the look with the included blue baseball cap. This Top Gun themed cap will complete the classic aviator look for your toddler. Now all you have to do is wait until he gets bigger so you can sit down with him to watch the classic 80's action drama!
Top Gun Costume Accessories
Congratulations on earning your wings! Now that you've received your wings and your uniform, you're just about ready to take a seat in your F-14A Tomcat, but before you take off into the sky, you're going to need some accessories. Not only will these accessories make flying go smoothly, but they will also make your costume look more authoritative. We have listed some key accessories that any Top Gun costume can benefit from. Add some of them or all of them to your cart so when your cockpit pals see you for the first time, they'll know that you're the real deal. Whether you want to be Maverick, Iceman, or Goose, these must-have essentials will definitely take your costume to the Danger Zone and back!
Top Gun Hat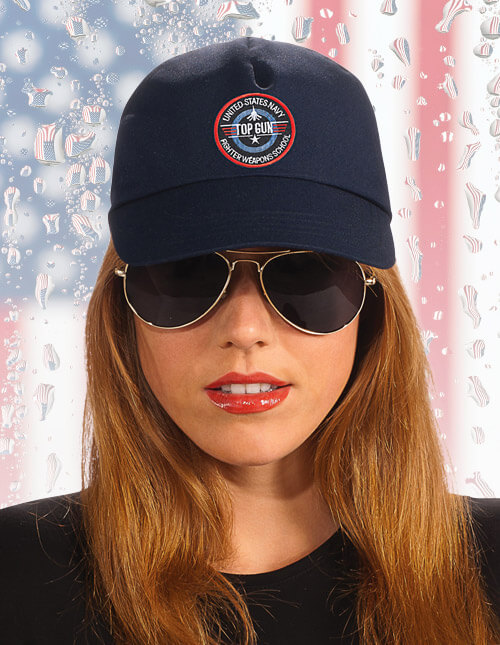 If you're going to dress up as a witch, you need a pointy hat and if you want to dress as a king you're going to need a crown! Sometimes hats are the key accessory which completes the whole ensemble, and Top Gun costumes aren't any different. If you want to look like a believable fighter pilot, we definitely recommend wearing a baseball-style hat. The curved brim will keep the sun out of your eyes which is imperative since you'll be soaring so close to the sun. Plus, this particular Top Gun hat features a circular patch on front that says "Unites States Navy Fighter Weapons School," so this hat will also add an authentic touch to your costume!
Aviator Sunglasses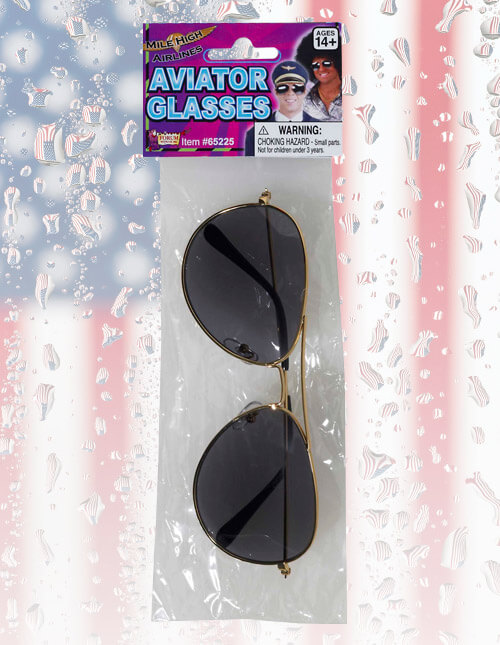 In the same vein as a Top Gun baseball hat, aviator sunglasses are a must if you plan on wearing a Top Gun jumpsuit or dress because the stylish shades will keep the sun out of your eyes while you're swiftly maneuvering through the blue skies. Not only are these glasses affordable and stylish, but they will also make your costume look official. If you can remember, Maverick, Goose, and Iceman all wore these types of shades because they make everyone look cool and they're especially effect for Naval Aviators or people who are just dressing as Naval Aviators! Avert any crisis situation and make sure that these glasses are on your face at all times. Yes, even when you land your jet to go hang out with your fellow high-flying buddies at the party!
Men's Top Gun Bomber Jacket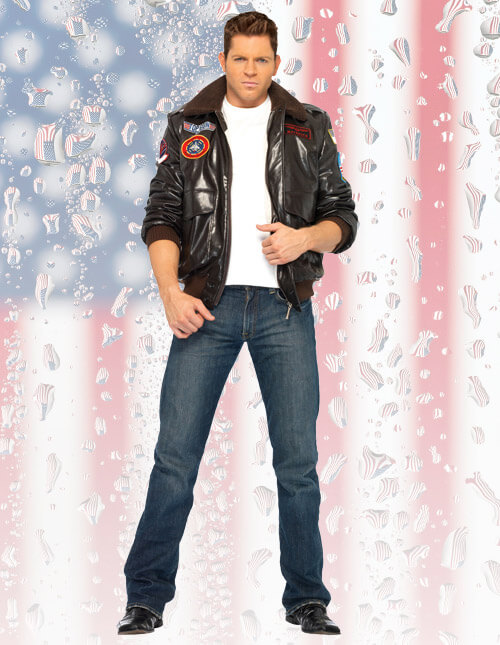 Did you know that the sales of bomber jackets increased by about 40% after Top Gun's theatrical release? It's not surprising since all of the starts in the movie can be seen wearing one! This fashionable jacket is famous for its ribbed collar, cuffs, and short hemline. It's safe to say that this type of jacket looks stylish on all different body types, so we would recommend wearing one with your Top Gun themed costume. Not only will the coat add some pizzazz to your overall look, but you'll also stay nice and warm while you're out on the town. This particular bomber jacket has a faux fur collar and a shiny brown outer shell. You'll especially love the patches on the jacket because they say, "Top Gun," "Maverick," and "United States Weapons School." Plus, you can wear this cool bomber with any pilot costume or you can just wear it when you're hanging out on a chilly day. Just grab your aviators and strike a fierce pose and you'll look exactly like one of the students from the Navy's Fighter Weapons School!
Women's Militia Boots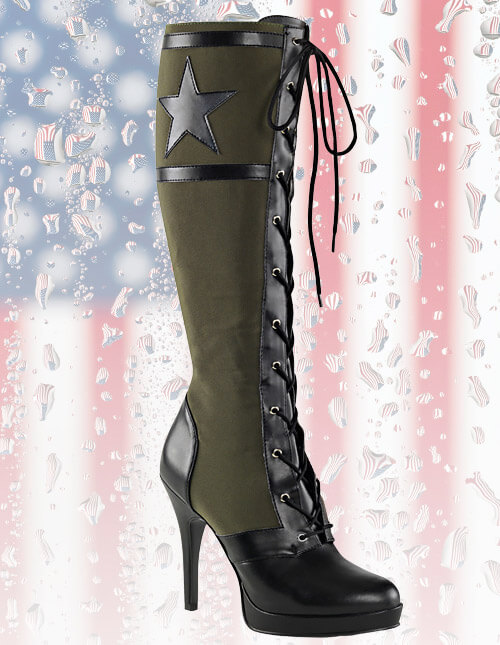 Ladies, you can be pilots too, and the best news of all is that you don't have to give up your cute footwear in order to do so! You can do aerial tricks and other reckless stunts while you're soaring through the air, but now you can also look stylish while you're at it. Usually Naval pilots wear combat boots when they're handling an aircraft, but now you can start a new trend for all the high-flying females out there! You can wear these women's militia boots whenever you're suited up in your Top Gun costume and you'll easily command any runway. These stiletto style high heeled boots are an army green color so they'll match with any costume that you pick out. Plus, you'll love the lace up ties in the front because they make these heels look very high fashion. Don't worry about not being able to navigate the plane, because we know that you're one capable lady-pilot who isn't afraid to push the envelope. Your squad will be inspired by your savvy fashion sense and your desire to look great even when you're gliding through the clouds, so they'll follow your lead! Pretty soon, you'll be commanding some of the best-dressed aviation students around!