Outdoor Halloween Decorations
If the feel of a fall breeze, the sound of rustling leaves, or the sight of a crow puts you immediately in mind of Halloween, you've come to the right place! Transform the outside of your home into a Halloween spectacular with everything from sparkling pumpkins to hanging shop signs available in our selection. Not sure where to begin to get your yard looking sharp for the holiday? Keep reading! We'll dig into some of our favorite pieces of Halloween décor and fill you in on how they can add spirit to your display!
Inflatable Halloween Decorations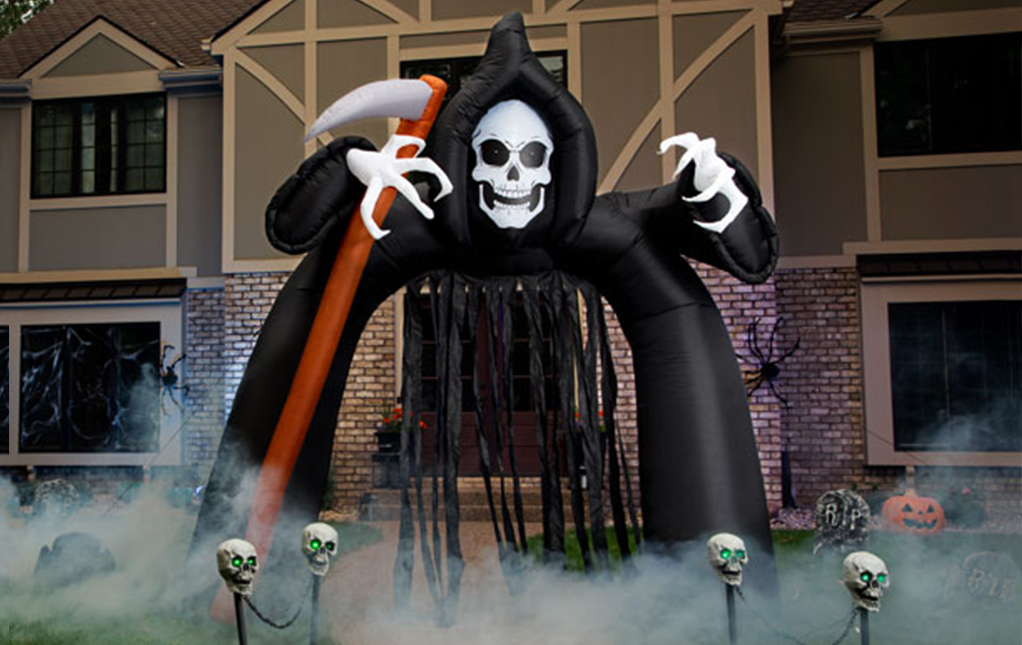 Inflatable decorations are one of the quickest ways to get the lawn set up for any holiday. You'll find a variety of Halloween styles to choose from in our Halloween inflatables selection! Looking for classic scares? The grim reaper is a staple in Halloween horrors and our exclusive inflatable reaper is sure to cause goosebumps looming over the front walk, greeting trick-or-treaters with his toothy grin! For something a little family-friendlier, though, consider playful spirits popping out of pumpkins or unicorns having a laugh dressed as skeletons!
Animated Halloween Decorations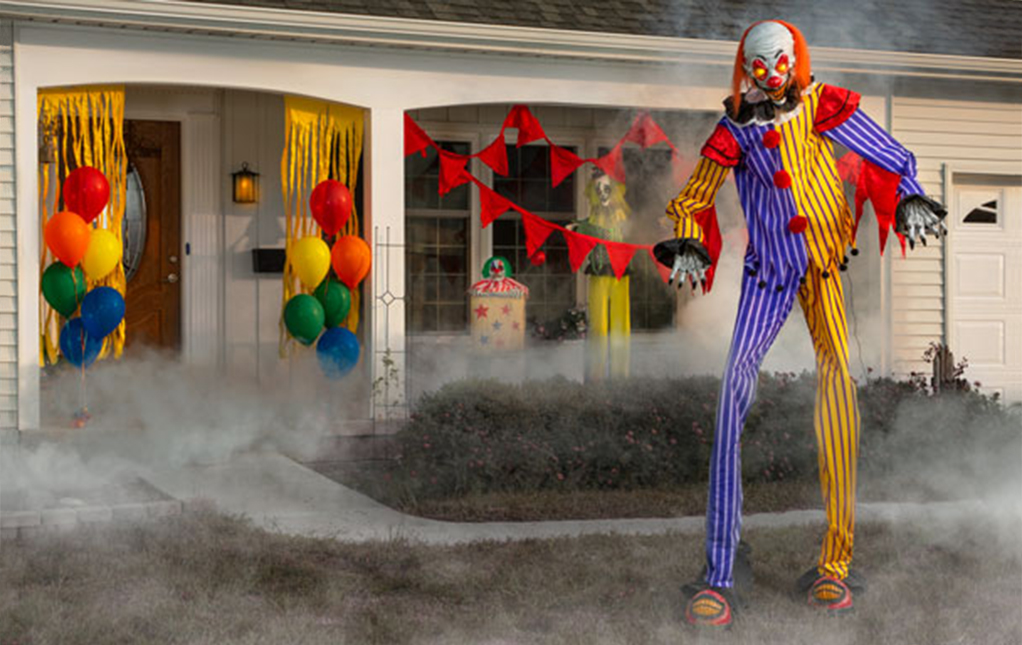 From the candy bowls that surprise every child to the decorative dolls that won't sit still, Halloween is the season of jump scares! Bring the nostalgic feel of startling trick-or-treaters or the thrill of terrifying your costume party guests with Halloween animatronics lurking all-around your home. Funzo the Clown takes the fear factor to another level with his 7-foot frame, glowing eyes, and creepy pre-set phrases. But with the towering terror standing sentinel outside, indoor animatronics like witches' brooms and dancing ghosts seem perfectly sweet!
Halloween Yard Decorations
When fall arrives, yards become blank canvases ready for an artist to create a masterpiece. While there are plenty of ways to transform faded or overgrown lawns with yard decorations, a favorite is graveyards! This undying Halloween décor idea lets paranormal enthusiasts bring the creepy vibes of crumbling cemeteries home with faux tombstones. It allows zombie fans to raise the dead with ground breakers and fans of time-honored fears to turn their yards into spider havens. So, choose yard décor for versatile displays that are here to stay!
Halloween Lights
String lights and cozy, glowing candles are sooner associated with December holiday décor than Halloween. But the spooky season has a connection to lights that can't be ignored! After all, jack-o-lanterns' smiles don't sparkle unless lit from inside. And while flickering front porch lights or strobing Halloween party lights aren't as whimsical as will-o-the-wisps, they do give rise to their own kind of magic. Illuminate Halloween lore, a trick-or-treater's way to your front step, a haunted sitting room, and much more with Halloween lights in our selection!
Halloween Porch Décor
Spooky season vibes thrive outside. But from the other side of the window, grey skies and howling winds give cuddles on the couch a special cozy-meets-eerie feeling that's become an entire aesthetic. Luckily, our indoor Halloween décor is here to ensure the curious comfort of October's chill surrounds you as long as you'd like! Prepare for scary movie marathons, social media-worthy candids of the kids in costume, and all manner of at-home seasonal fun when you decorate with our selection!
Halloween Skeleton Decorations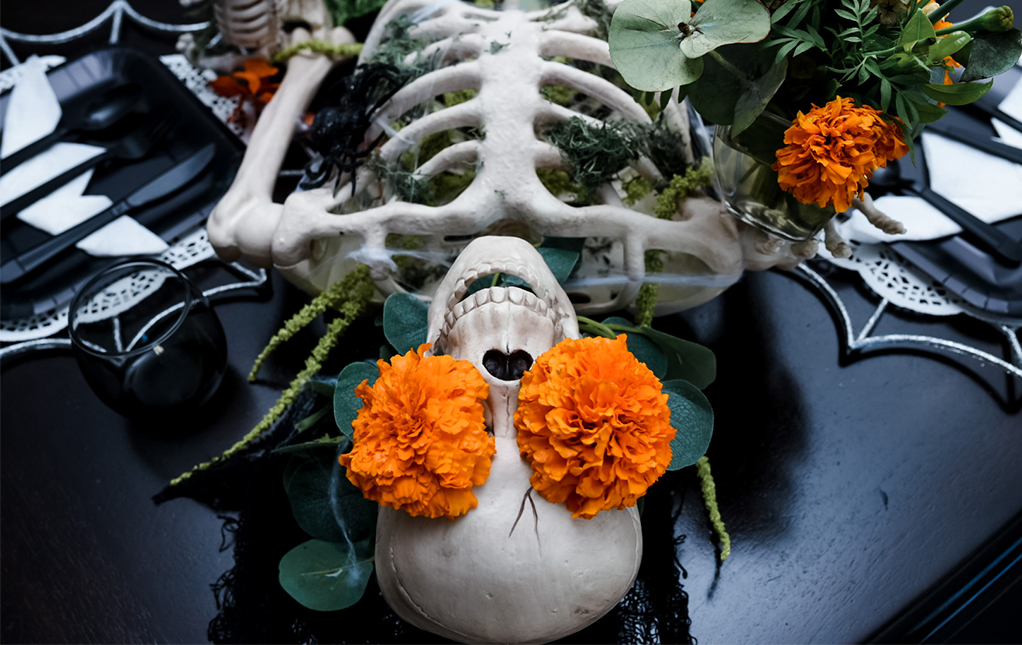 There's nothing as uncanny as finding a skull nestled on a shelf. Even if it's plastic, its hollowed eyes and bared teeth instantly give the space a gothic feel—perfect for Halloween! Create a dance macabre for your costume party with life-sized skeletons swaying to moody music. Fill the mantle with abnormal animal skeletons as creepy are they are cute. Or add ghoulish glamour to your Halloween buffet with posable figures that are only here to serve! Whether you're looking to tickle some funny bones or vex visitors, our skeleton selection can help!
Halloween Pillows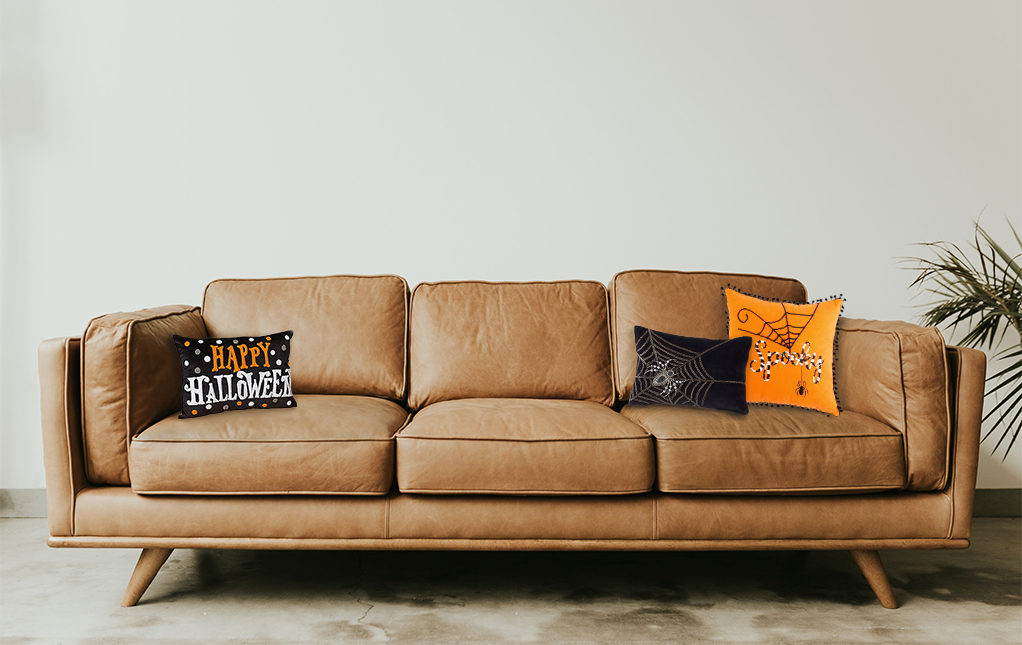 Even if you want to create an uneasy atmosphere for your haunted Halloween house party, you'll want to be comfortable the rest of the fall. But that doesn't mean you need to keep your living space free of frightful furnishings. Perfectly combine cushy and creepy with Halloween throw pillows! Embellished with everything from Happy Halloween to creepy-crawly spiders, these seasonal cushions keep the spirit of Halloween alive while blending easily into existing décor. Mix and match our available selection to ensure a snuggly spooky season!
Halloween Wall Décor
What makes an abandoned space haunting? It's the dinginess off the walls, the peeling paint, and sinister graffiti that silently shouts keep out! If you're looking to decorate your home for a frightening affair, our wall décor is there with bloody hand-print stickers and faux wood planks stained with rot. However, if you want to create the exact opposite, our selection can provide for your kid-friendly display! Shop black cat garlands, vintage Halloween characters, or colorful window clings for whatever trick or treats you prefer!
Halloween Tree Decorations
There are few things more enchanting than a fully decorated Christmas tree. But a twinkling Halloween tree is definitely on the list! Whether you're new to seasonal tree decorating or looking to expand your ornaments collection to include Christmas' spooky cousin, we have the selection for you! Trim the tree with foreboding baubles that take on a sinister shine in the same sparkling lights as your traditional holiday ornaments. Then switch them out or leave them up to save time and create your own Nightmare Before Christmas!