Kids 100 Dollar Bill Costume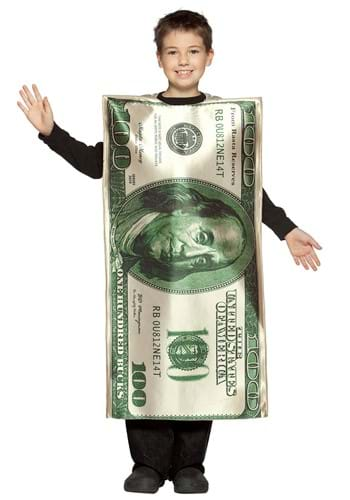 Sign Up
to be Notified When Your Size Is Available
Product Information
100% Polyester

$100 screenprinted tunic

(does not work as acutal currency)
What is something that everyone would really like to get their hands on? Money of course! Not just any money but $100 bill! When we get ahold of that $100 bill our eyes light up and mind fills with all of the crazy ways we could spend that money! Some people save it (which I think we can agree that's boring) while others will blow it one the craziest things that money can buy! This Halloween your little one can look like bill everyone wants to get their hands on in this great money shaped costume.
Our founding father Benjamin Franklin would be proud knowing that he is being sported by your little money maker! He or she is sure to be able to rock this Kids 100 Dollar Bill Costume in style! Not only is this costume basically the easiest, simple $100 screen-printed tunic but, it is sure to make a statement. People are sure to stop and stare when they come across a walking, talking $100 bill!
The only downside to this killer costume is that you can't use your kid as real currency, yeah bummer we know, but you can make everyone jealous with how cool and creative this costume is! Can you say green with envy? The parents sure can when they kick themselves for not thinking of this! Your kid will look and feel like a million bucks while actually looking like a $100, that's a real bargain if you ask us, parents!
Size
Measurement
Standard
Metric
Standard
Child Size
7 - 10
7 - 10
Standard
Chest
42"
107cm
Standard
Length
38"
97cm
There are no reviews for this item yet. Be the first to write a review!
 Write A Review
---