Dog Costumes
Life without your pet is just too hard to imagine! Your furry little friend gives you love, companionship, and endless hours of entertainment. Anyone who's ever owned a pet knows exactly what we're talking about! One minute your dog is sitting on the couch, the next minute he's chasing his tail with unrelenting vigor. It's a shame that he can't be a part of your costume party. Well, we think that's just not fair. Your pet could be the life of the party if he just had a silly outfit to wear! Well, your doggy doesn't have to stand around in the corner without a costume, since we have plenty of pet costumes for your puppy. From Star Wars to Wizard of Oz, your dog can join any kind of party with one of these adorable outfits. This handy guide has tons of pet costume ideas and we've picked out some of our favorite ones. We've even put together a list of costumes that can be worn by kitty cats!
Costumes for Cats
Cats are quite the enigma. Even experienced cat owners will tell you that sometimes, their cat just does things that cannot be explained, but that never stops us from loving the fluffy little animals. For those of you brave enough to try, we do carry many outfits that are that can be worn by cats. Now, some cats aren't actually comfortable wearing costumes, so if you have a kitty who doesn't like wearing clothes, getting him into a costume might not be easy. Those that do enjoy wearing clothes will look ultra-adorable in our costumes for cats. Search through our selection of pet costumes to find something your kitty won't hate to wear. Dress them up in cat Halloween costumes that one time a year or even for an every day look.
Cat Robe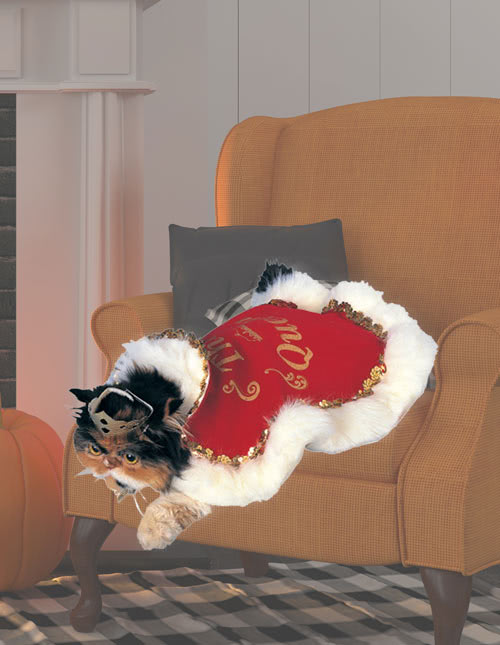 Your cat is definitely the acting regent of your home, whether you'd like to admit it or not. Just think about it. You must feed him and provide him with suitable drinking fluids. You must provide him with adequate entertainment, or he will become dissatisfied and subsequently tear up the curtains. You even clean his poop up. That's sounds like a queen to us, so you should garb him up in this queen cat robe costume!
Cat Bat Wings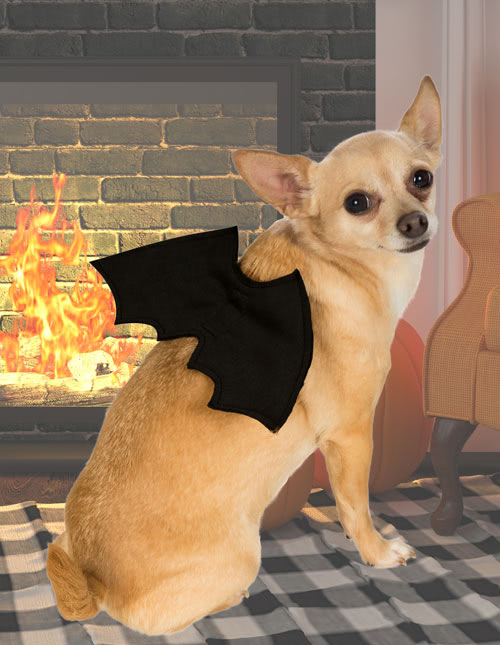 Have you ever been suspicious of your cat? He's always up at all hours of the night, he hates the smell of garlic, AND he likes to stalk humans from the shadows. He might just be a vampir in disguise! Okay, so maybe your kitty cat isn't a vampire but wouldn't it be cute if you could dress him up like one? Well, now you can with this cat bat wings accessory. This accessory just fits on your pet's back to make him look like a vampire lord of the night.
Cat Lion Costume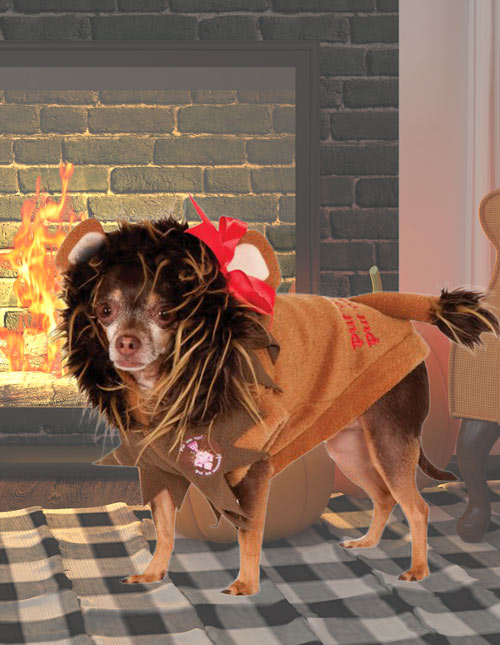 Your kitty sees himself as a wild jungle king, even if he spends most of his time napping in sunbeams. He sees himself as a ferocious lion, who uses his masterful hunting skills to track down any prey, even if he IS still afraid of a lone cucumber. Well, we suggest making a compromise, by letting him wear this cat lion costume, which is based on the cowardly lion from the Wizard of Oz.
Cat Banana Costume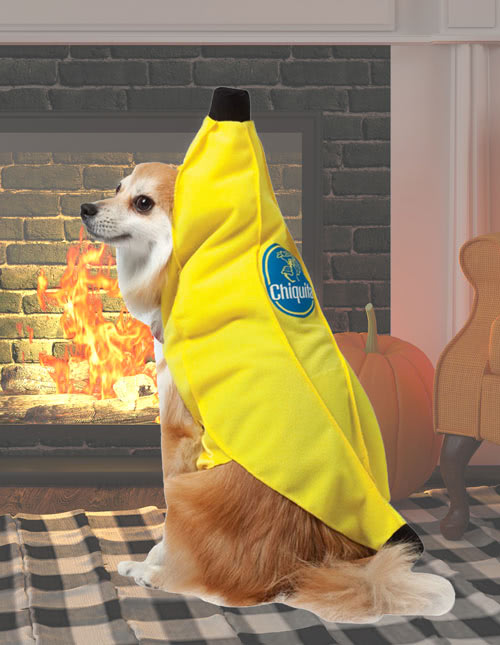 Let's talk about cats and bananas. Some cats are afraid of them, since they resemble their well-known foe, the cucumber. A few cats actually eat them. Even fewer cats… dream of becoming one! Now, your ferocious little kitty can become her favorite fruit when she dresses up in this cute cat banana costume. It's originally designed for dogs, but works great with larger felines who have a penchant for wearing costumes.
Star Wars Dog Costumes
Have you ever wondered what kind of character your dog would be if he were in the Star Wars movies? Would your puppy be an agent for the Galactic Empire, wearing a Stormtrooper outfit? Maybe your dog would be a fearsome Jedi warrior because he's always so stoic and wise. He could even be an Imperial Walker, so you can dress up like Darth Vader and become a real live version of the classic meme. Well, whatever role you think your pooch would play in the Star Wars movies, we have a costume that will help him unleash his inner star power! Just check out our list below.
Ewok Dog Costume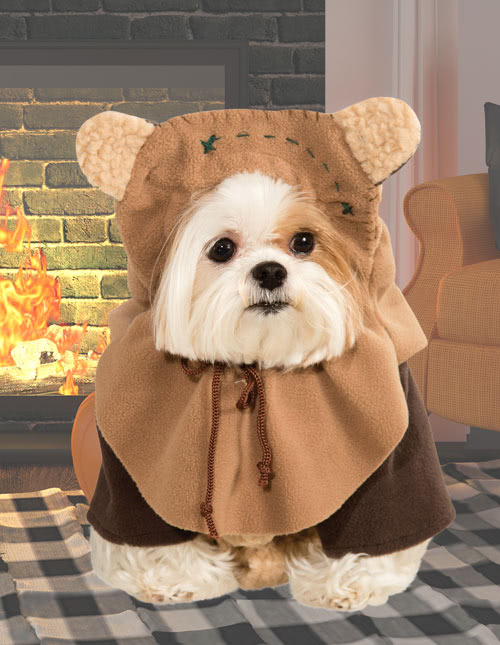 Wicket might be one of the easiest associations you can make with your pet! After all, Ewoks are small, furry, adorable, and they have an intense desire to protect their home from bad guys. Yes, your dog may just be an Ewok, so he's going to need the perfect outfit to let him transform into one. Just use this Ewok dog costume to get his look down right.
Bantha Dog Costume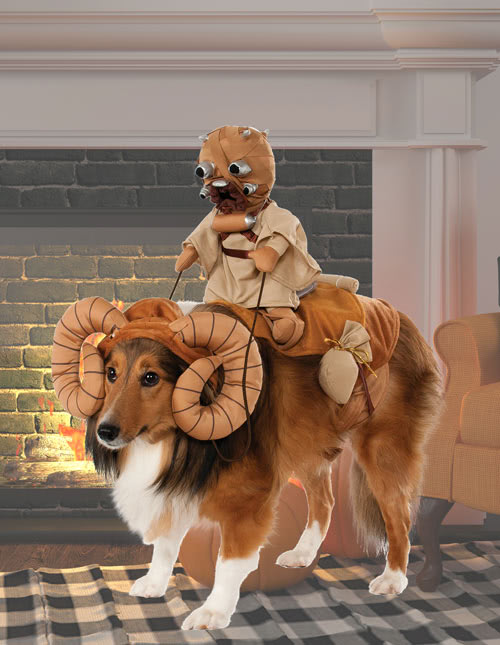 Is your dog the kind of wild beast that Tusken Raiders would like to take along with them on arduous journeys on Tatooine? Then your pup is probably a bit like a Bantha! Banthas are loyal creatures that carry the Tusken Raiders around on their backs and this Bantha dog costume is an easy way to transform your pup into one of the critters from the movie.
Imperial Walker Dog Costume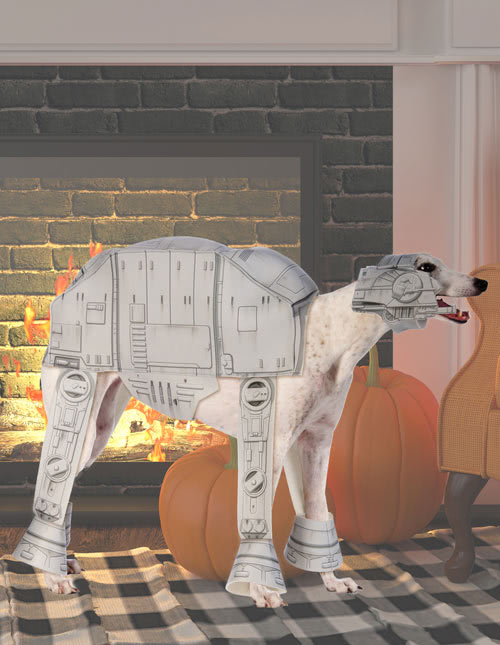 If your dog is a highly functional war-machine, then he might be ready to become an AT-AT Walker. Yes, that's right. Your dog can look like the assault vehicle used by the Empire in The Empire Strikes Back when he wears this Imperial Walker dog costume. Just make sure to help him fight off the Snowspeeders that will be gunning for him when he wears this cute costume. (You can also take him for a walk dressed as Darth Vader for great comedic appeal.)
Jedi Dog Costume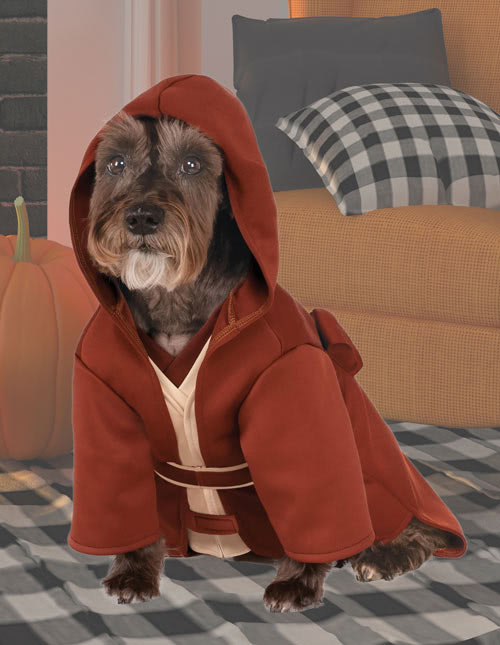 Sometimes your dog is your only hope when a situation goes sideways. Like when your plate tips over and your entire dinner falls onto the floor? That's when you shout, "Fido-Wan Kenobi, you're my only hope!" Your doggie could come running from the other end of the house to rescue you from messy food spills while wearing this Jedi dog costume. It might not exactly be as important as delivering Death Star plans to the Rebel Alliance, but it's still a pretty important job.
Yoda Dog Costume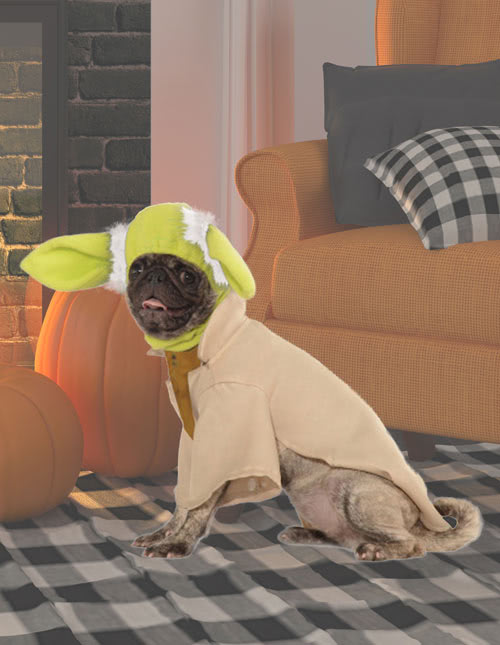 Is your pooch wise beyond his years? Does he like to lurk around in swampy areas like Dagobah? Well, then maybe he's more of a Yoda type character! That little green guy liked to get muddy and hang out with all kinds of creepy creatures in the depths of Dagobah. Just suit your dog up in this Yoda dog costume and he'll be ready to train you in the ways of the Force… provided you fill his bowl up with some premium dog chow!
Dewback Dog Costume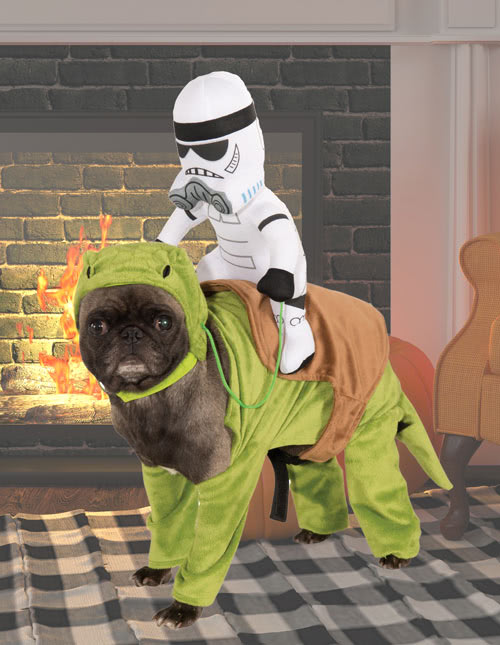 Maybe your dog is a little bit more of a bad guy! Well, then he probably needs an outfit that more accurately reflects his allegiance. Your dog probably imagines himself as being a great service to the Empire and no creature is of more service to the Empire as the big, lizard-like creatures called Dewbacks! These critters transport Stormtroopers all across the deserts of Tatooine and this Dewback dog costume is a great way to make him feel just like a Dewback.