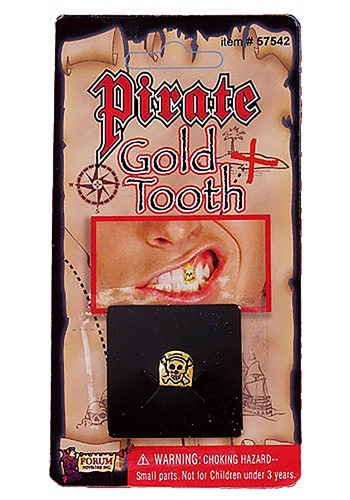 Product Description
X always marks the spot. In your case, no one will think your buried treasure is resting on your teeth. Smart move Mister Pirate Man. And don't forget you can always create a reputation as the most fearsome pirate on the seven seas with this Pirate Gold Tooth. That's right! No need to make that appointment with the busiest dentist in Tortuga, you can just get your own gold tooth right here! It attaches to your real tooth, and it even sports a skull and crossbones on it. Because when a pirate smiles the world should smile with them. Wait, did we say smile? We meant cower in fear. Either way, this gold tooth will look amazing with your pirate costume, matey.
Gold colored tooth

Skull and crossbones etched into it

Slides over your tooth
Gold Pirate Tooth w/Skull Emblem
Size
Measurement
Standard
Metric
Standard
One Size
One size fits most
One size fits most
There are no reviews for this item yet. Be the first to write a review!
---