Pirate Costume Ideas
"Ye be in search of salty old pirates, eh?" Then you've come to the right place. The HalloweenCostumes.com How-To! This guide will help you assemble a unique pirate outfit, because let's face, it your mom was right: You should always be yourself... unless you can be a pirate. Then you should TOTALLY be a pirate. Why? A pirate's life is awesome!
We think there's something to be said for long days following cryptic treasure maps, sailing the high seas, or lazing ashore of a remote island just waiting for the tide to roll in. Total awesomeness. Maybe us rat racers could use a more modern day version of the classic pirate to show us the beauty of excitement, relaxation, and swashbuckling all blended harmoniously together. Sure, there is the whole pillaging and plundering part, but there's a reason why pirate festivals (like Gasparilla) and "Talk Like A Pirate Day" exist – we are fascinated by these rogue, seafaring adventurers. Perhaps that's also why we have so many pirate Halloween costumes, since pirates knew how to throw down a barrel of rum like no other. They arrr invariably a favorite choice for going to a party!
So whether you're attending a swashbuckling soiree or just taking the tots trick-or-treating in cute pirate costumes with eyepatches, we'd like to do everything and anything we can to help you find the best pirate Halloween costume, so that's why we've created this How-To guide. We'll go over a "Love your Look" photo session that we set up, retread some of our favorite buccaneers from history and film, and be tellin' ye a delightful tale of what happens when a lady in a mermaid costume and dashing gent in a pirate costume meet on the high seas. We've also got a DIY printable to customize your accessories, pirate quotes so your talk matches your pirate clothing, and for good measure a women's make-up tutorial to help the lady buccaneers get the look just right. We never said being a pirate was easy after all, so study up on 'tis precious info, and we be sure you'll be ready to set sail in no time!
Pirate Halloween Costumes
We set up this awesome pirate photo shoot at a local gully, and while we didn't have time to look for treasure, our motley pirate family proved truly worthy of the costumes we donned them. From pirate accessories to scenery, this pirate shoot is one for the history books. Check out our favorite images to take a look at the details that matter to us, because those are the same details that are going to bring your pirate adventure to life. The seven seas are beckoning, after all!
Pirate Costumes for Men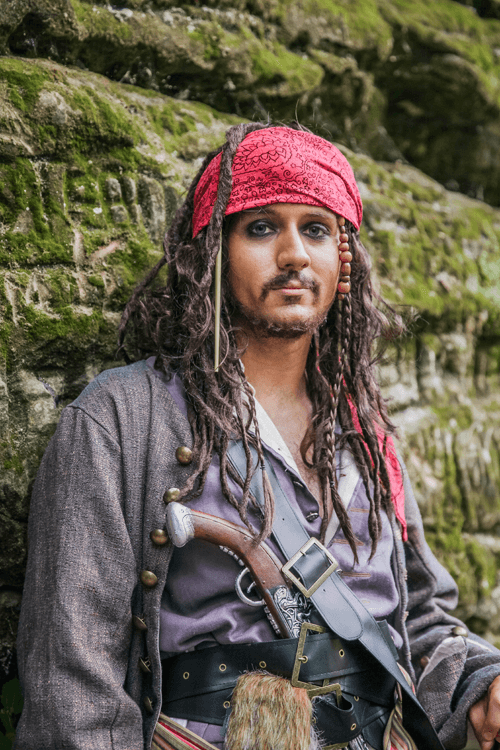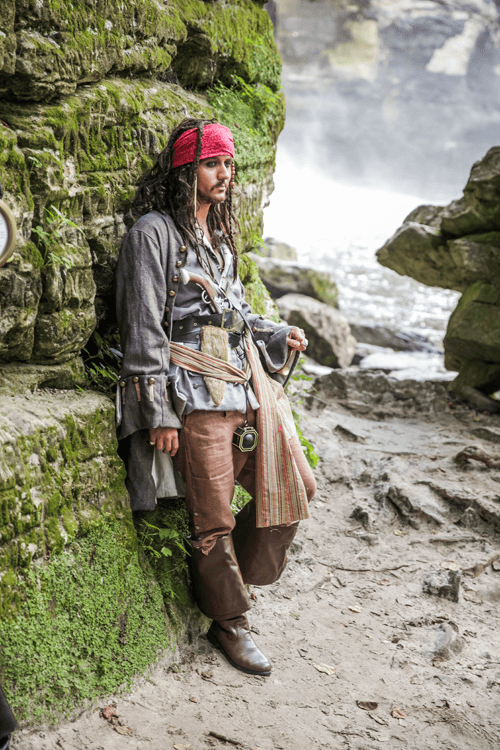 Our Captain Jack might not be as effusive as the character of pirate movie fame, but that doesn't mean he doesn't exude confidence and coolness at every opportunity he gets. When he takes a moment on shore, the details of his Caribbean pirate costume really stand out. The long roughhewn jacket, the scarf sash tied around the waist, and of course, a VERY important compass attached to his waist… not to mention a trusty flintlock locked-and-loaded! A close-up gives you the details that helped us seal the deal and transform this everyday Joe into a pirate captain. Rich makeup tones give him a sun-tanned complexion, and while he already happened to have just the right amount of facial hair, a faux goatee can complete the effect. Beaded braids complete his dreadlocked style, and altogether he's truly worthy of a trip to Tortuga. You can hit the books to help you create your backstory, or just brush up on your favorite pirate flicks to get the details fleshed out. Just remember you don't actually have to imbibe rum to get that drunken swagger just right—practice makes perfect!
Pirate Costumes for Women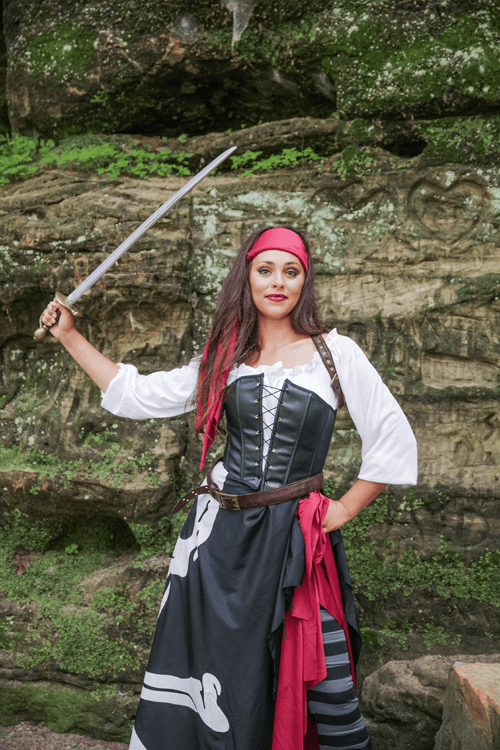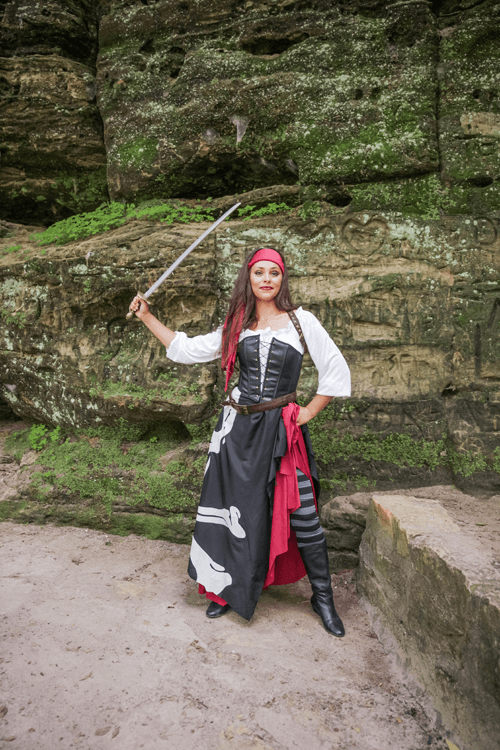 Skirting the high seas in our exclusive Pirate Flag costume might be enough for most landlubber ladies to break up their normal routine, but if you're considering conscripting with a pirate crew, we suggest outfitting your new women's pirate costume with some premium finishing touches to create a sexy pirate costume worthy of boarding the Queen Anne's Revenge. The first step? Adding a sword, naturally! A cutlass is sure to be a trusty weapon for any lass, and while not as useful at range as a set of pistols, holding one just right makes any photos you take look ten times cooler. Plus, we suspect carrying a cutlass when you approach the bar at the watering hole is sure to ensure you receive premium service. Of course, we only carry prop swords, because we can't condone carrying steel out in public… unless you're actually planning on hitting the streets of Tortuga. And if that's the case, we recommend having both a blade and a flintlock backing you up! Finish this adult ladies' pirate costume off by mussing up your hair just a bit to give you a ragged edge, adding costume jewelry, and you will want to complete the style with high definition makeup before you leave your Captain's quarters. You're going to want to make sure your enemies can see your face on the deck before you launch your broadside attack. Fire the Cannons!
Pirate Costumes for Kids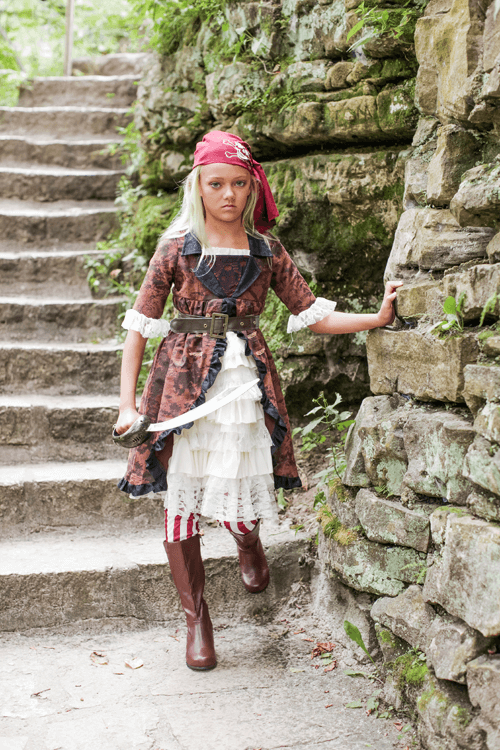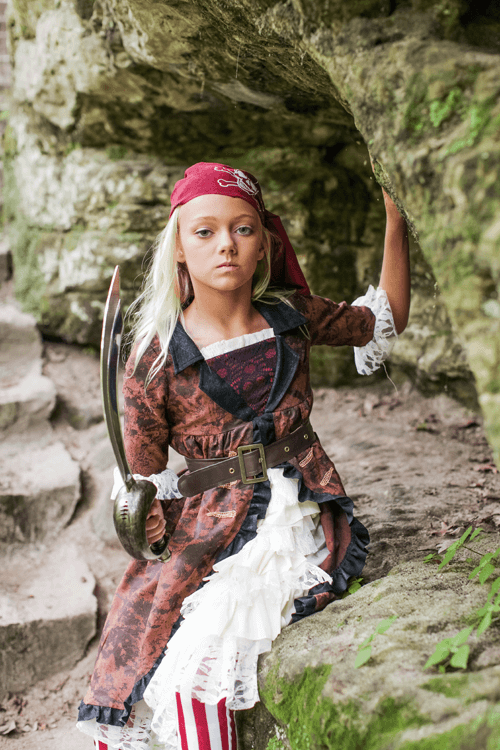 Sure she gets straight A's, but can she set the rigging on a mizzenmast and find the "X marks the spot" on a remote desert isle? She can start her pirate training out right by having a tip top look for the first day of school, and when she chooses this Brown Coat Pirate Costume for girls, she'll be ready to hit the books for pirate preparations or to sign up for a scourge at sea with the next crew leaving port! This cute pirate costume has all accessory pieces needed to finish the look with the included printed bandana, striped leggings, and faux leather boot tops and belt. After that, all she'll need is a wicked curved cutlass to ensure she's properly armed. She'll also have to complete the look with a scouring stare, of course, but if that lesson's not in the textbook, she can just watch some YouTube videos to get the facial expressions just right. When she disembarks the ship and descends an ancient set of steps in search of fabled pirate gold, we're sure she'll be ready for the adventure of a lifetime!
Family Pirate Costumes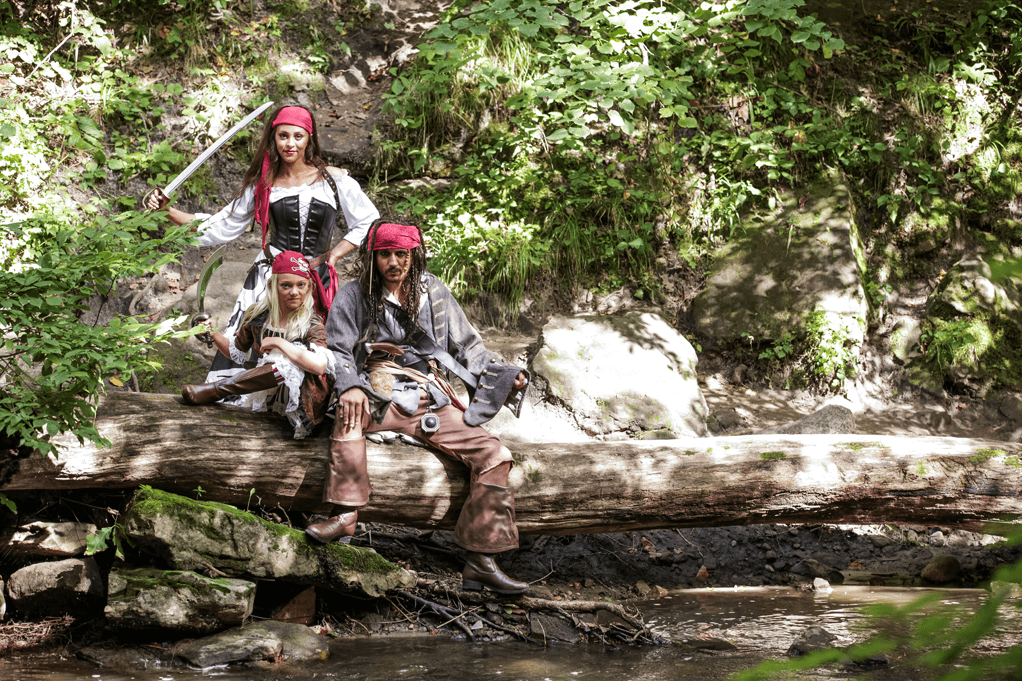 A Pirate's Life For Ye! You might take a break from plundering every once in a while, or you might just want to look great when you spring the booby trap, but either way, when you make your presence known to your would-be victims, you're going to want to look cool, fearsome, and 100% pirate-ey. This family of scallywags turned a momentary break on a log into a photo op, a chance to show off their swords, and the opportunity to hang out and just look just all-around cool in their pirate family costume. Our captain is content to relax while the Mrs. and lil Ms. look deadly but sweet. The whole band looks merry in their pirate attire — but with those swords at the ready, we're not going to assume they're content to just chill. They might be taking a break from the treasure hunt, or just waiting around for their band of buccos to do the dirty work of digging for them. But we're guessing that if you happened to be a passerby to this gang of marauders, you'd probably drop your gold at first sight of 'em. Or, at least try to take a really great selfie with them!
Authentic Pirate Costumes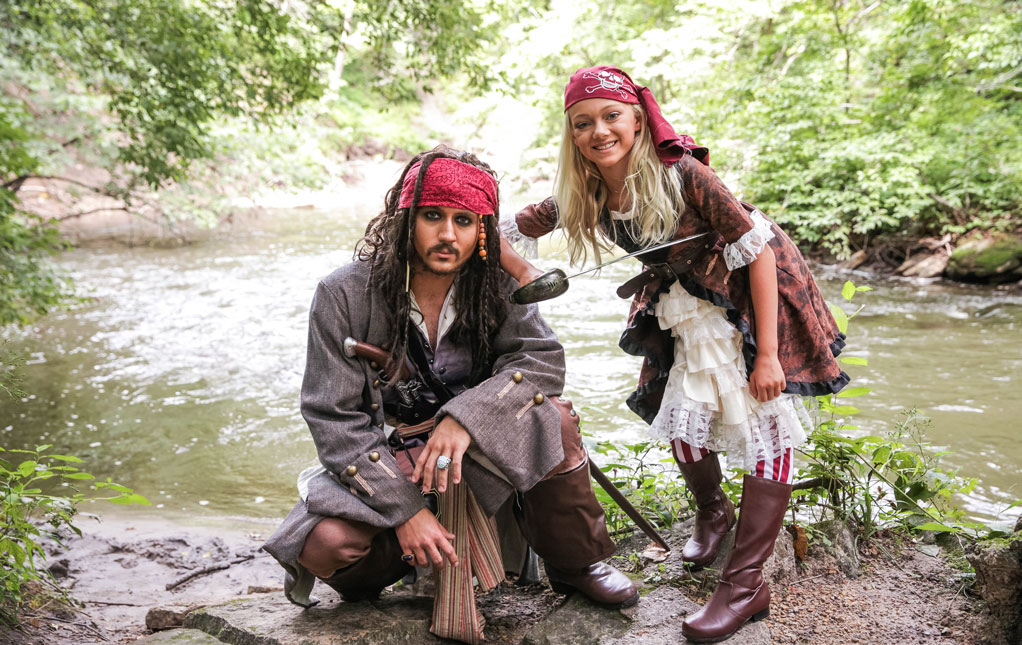 So having a young lass is sure to be a great addition to your family's pirate posse. But she might not know the first thing about pirating. Normally a ship is full of scallywags and sea scum, so she's going to want to know all the ins and outs of buccaneer life before she signs a contract to set sail. And it takes more than just choosing a really great girls' pirate costume! When you take your little one out to search for treasure, (or trick-or-treat plunder from the neighborhood), be sure to take a few moments here and there to teach her all the Captain's wisdom you've acquired from your expeditions. If you have time to take a snapshot near the "X marks the spot", be sure to to break out your pirate stare. She, of course, can look cute and smile, since she has many more years left to build up her fearsome reputation!
Female Pirate Costume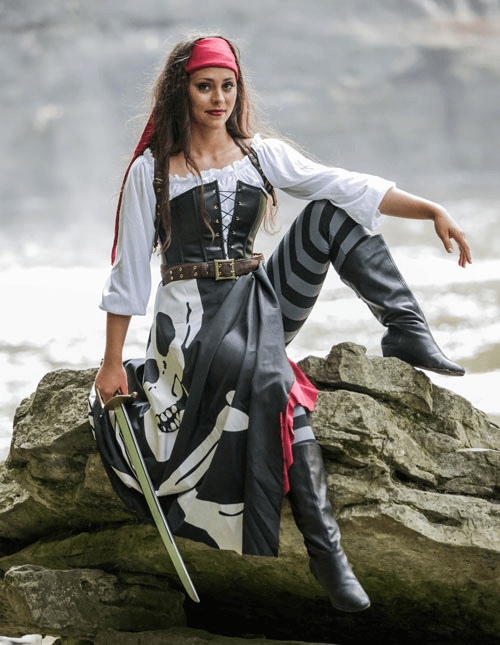 Taking a break from searching for buried treasure is all fine and well, but you just never know when another batch of potential victims might round the bend with sacks of gold ripe for the plundering. You can look inviting and altogether not too devious when you pose on a rock at the ocean's edge. You might be a sight for sore eyes for a wayward batch of salty sailors, but when you show your steel, they'll know that their pockets are about to get a whole lot lighter. Just perch your leg up and plant your bucaneer boot while you survey the shore scene. Take it all in, and enjoy the sea breeze and mist from the tide rolling in. If your mind starts to wander, just think about all those doubloons you'll have acquired by day's end!
Group Pirate Costumes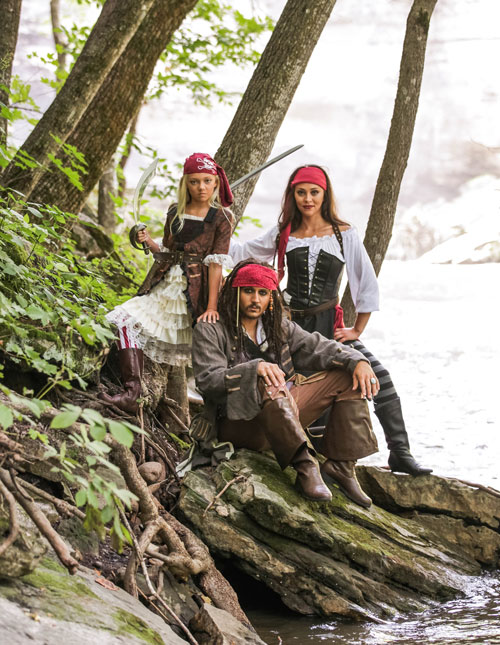 A Pirate Family That Sails Together, Stays Together! We like to let our imagination run wild and fantasize about setting out across the Caribbean outfitted in our signature Halloween Costumes. But short of acquiring a time machine, that's just not too likely to happen. In all seriousness, a pirate theme is one of the most fun and most creative ways to deck your family out in a family group theme. Whether you create an elaborate backstory, or actually go on a treasure hunt with your young buccos, there's sure to be plenty of treasured memories created. In fact, we highly recommend setting up a treasure hunt. Just substitute candy for the gold, and your little ones will love it! With a touch of extra effort (and great costumes!) you too will be able to take your pirate costume experience from ordinary to extraordinary.
Historical Pirate Costumes
Pirates do have a distinctive look so you'll never have to worry about someone misinterpreting your costume, but it's pretty fun to have a backstory, too. Brush up on your Seven Seas history with these iconic looks and authentic pirate costumes. If you're gonna be a pirate – why not try one of these pirate costumes for adults on for size?
Captain Kidd Costume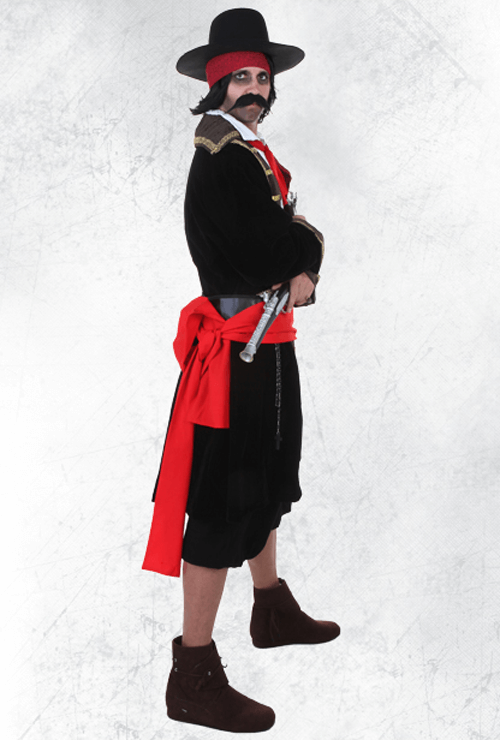 William Kidd was a Scot, so we're pretty confident in making up the story that he preferred whiskey to rum. This guy had a reputation for piracy (and was subsequently executed for those crimes), but it was later discovered that he was merely a privateer... in layman's terms, a legal pirate that was sent on missions that were actually approved and funded by the government. Evidently, no good deed goes unpunished! Howard Pyle's famous painting of the brutish buccaneer, complete with a signature red sash and awesome mustache, inspired this costume ensemble. Top off the look with some of our unique pirate accessories and maybe even a pair of flintlock pistols!
Captain Morgan Costume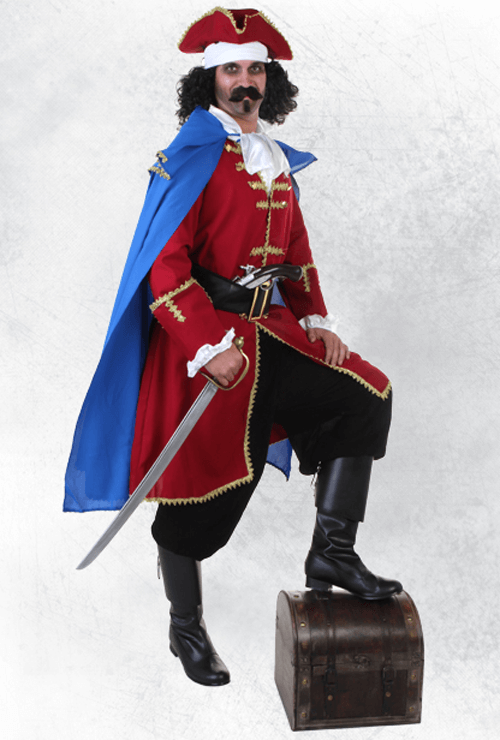 He wasn't just a rum bottle mascot; Captain Morgan happened to be a real dude as well – Henry Morgan was actually pretty great! Maybe not "great" in the traditional sense of the word, but as an admiral in the Royal Navy, he had privateer written all over him. In fact, he became one of the most successful buccaneers in history. All the folks at your Halloween party, however, will recognize you as "the rum guy," so just go with it. Not only will you have the best pick-up line ready to go, you also have a pretty amazing pose in your arsenal. If you prefer the pop culture look over something more historically accurate, just don't forget the signature blue cape and a salty black mustache and goatee kit!
Blackbeard Costume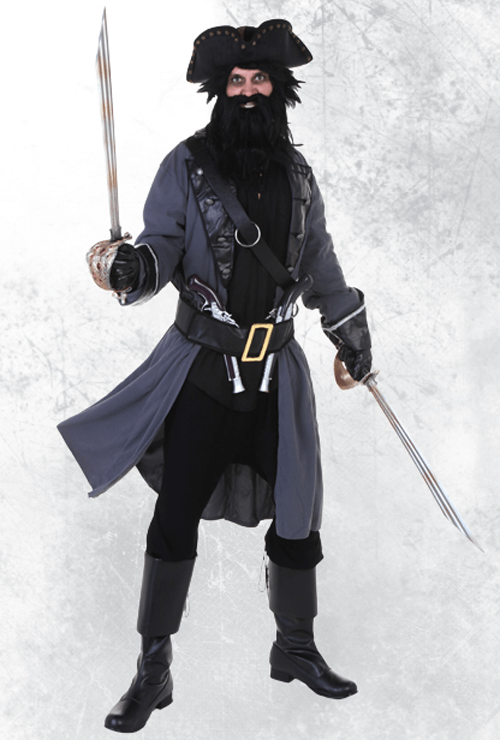 You probably know him only as Blackbeard but his real name was Edward Teach, and he started off his career innocuously enough as a privateer out of the Royal Navy. Once he got a taste of the wild blue yonder, however, he basically lost his mind... which is really why every person knows his name today. He used his freaky getups and he actually lit his hair (with the help of a little flint) on fire to intimidate people. So naturally... he was wildly successful at pirating! Get this look by layering black on black on black to get this stylish mens pirate costume. However, DO NOT set your beard on fire. Chicks hate the smell of burning polyester hair. Trust us on that one!
Jack Sparrow Costume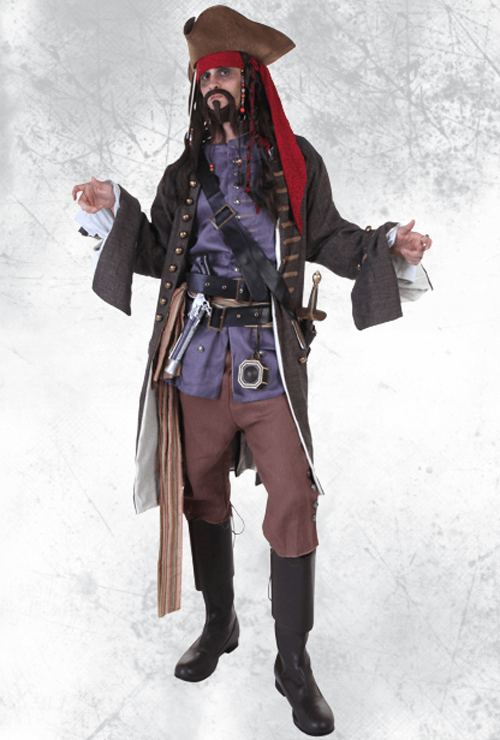 Who doesn't love the Pirates of the Caribbean movies? Johnny Depp brought Captain Jack Sparrow to life, and pirate cred hit an all-time high! Part scallywag, part pirate, ALL sarcasm – just like Jack, his look is all about layers. Why have one belt when you can have five? A single sash is as sad as a single tear. Don't forget the goatee and beaded braids because they are essential to this unmistakable movie pirate costume. And you want everyone to know who you are because Captain Jack Sparrow is a lady magnet. Seriously, to create the best Halloween costume of all time, just add rum.